Diane – Jacques – Raymonde
Trois personnes âgées, trois vies bien remplies.
Diane, Jacques et Raymonde racontent leur parcours et s'expriment à propos de la vie… et de la mort aussi.
Three seniors, three busy people:
Diane, Raymonde and Jacques talk about their lives and their views on life… and death, too.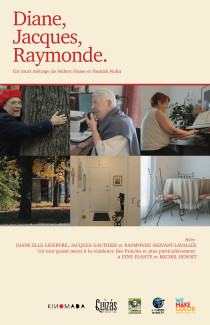 Fiche technique
Titre Diane – Jacques – Raymonde
Durée 15'48''
Réalisation Hubert Fiasse & Yannick Nolin
Image Hubert Fiasse & Yannick Nolin
Prise de son Sylvain Elfassy & Hubert Fiasse
Montage Hubert Fiasse
Mixage Agustin Enriquez
Étalonnage Felipe Martinez
Production Quizas - Kinomada 2016
Auteurs Hubert Fiasse & Yannick Nolin